Join us in Bad Schussenried! Please register for free here.
Team EAGLE (TH Nürnberg)
Team EAGLE (Erste Arbeitsgruppe zur Lokomotive Entwicklung Nürnberg, ≈ First working group on locomotive development Nuremberg) was founded at the beginning of 2022 and consists of 6 students of natural sciences and engineering, supported by 3 employees of the Institute of Automotive Engineering (IFZN) located at the Nuremberg University of Technology. Despite some problems, it enters the RWC 2023 already one year after its foundation with a complete, innovative locomotive, named after the historical model "ADLER" (Automated Driving Locomotive Efficient Railway).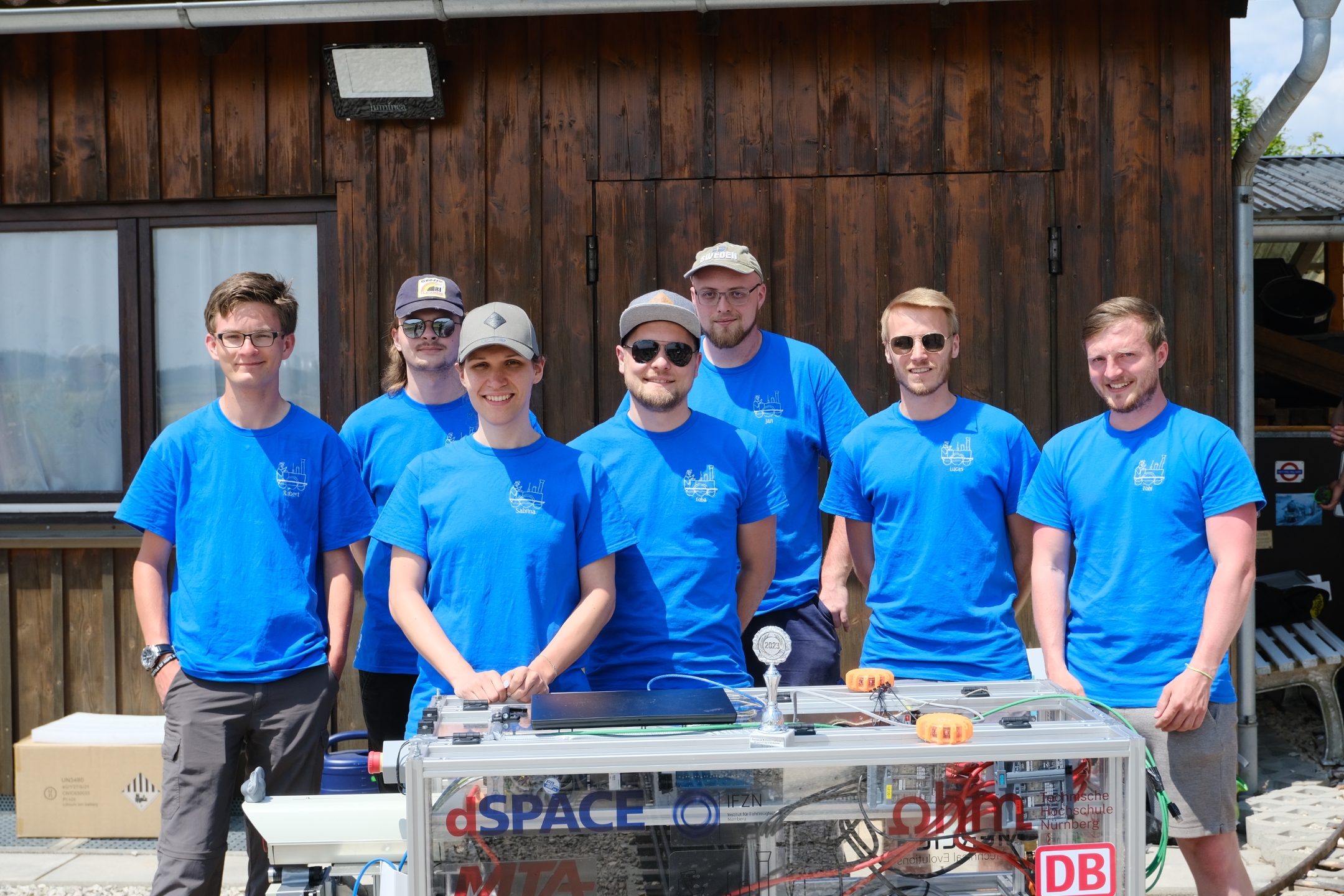 Team PUTrain (TU Poznan)
PUTrain is a Polish team of students from Poznań University of Technology, which has been building its own locomotives and competing in the Railway Challenge since 2018. Its projects focus on using non-obvious solutions, such as replacing steel parts with composite components, and reducing the bad impact on the environment by using renewable energy sources to power their vehicles.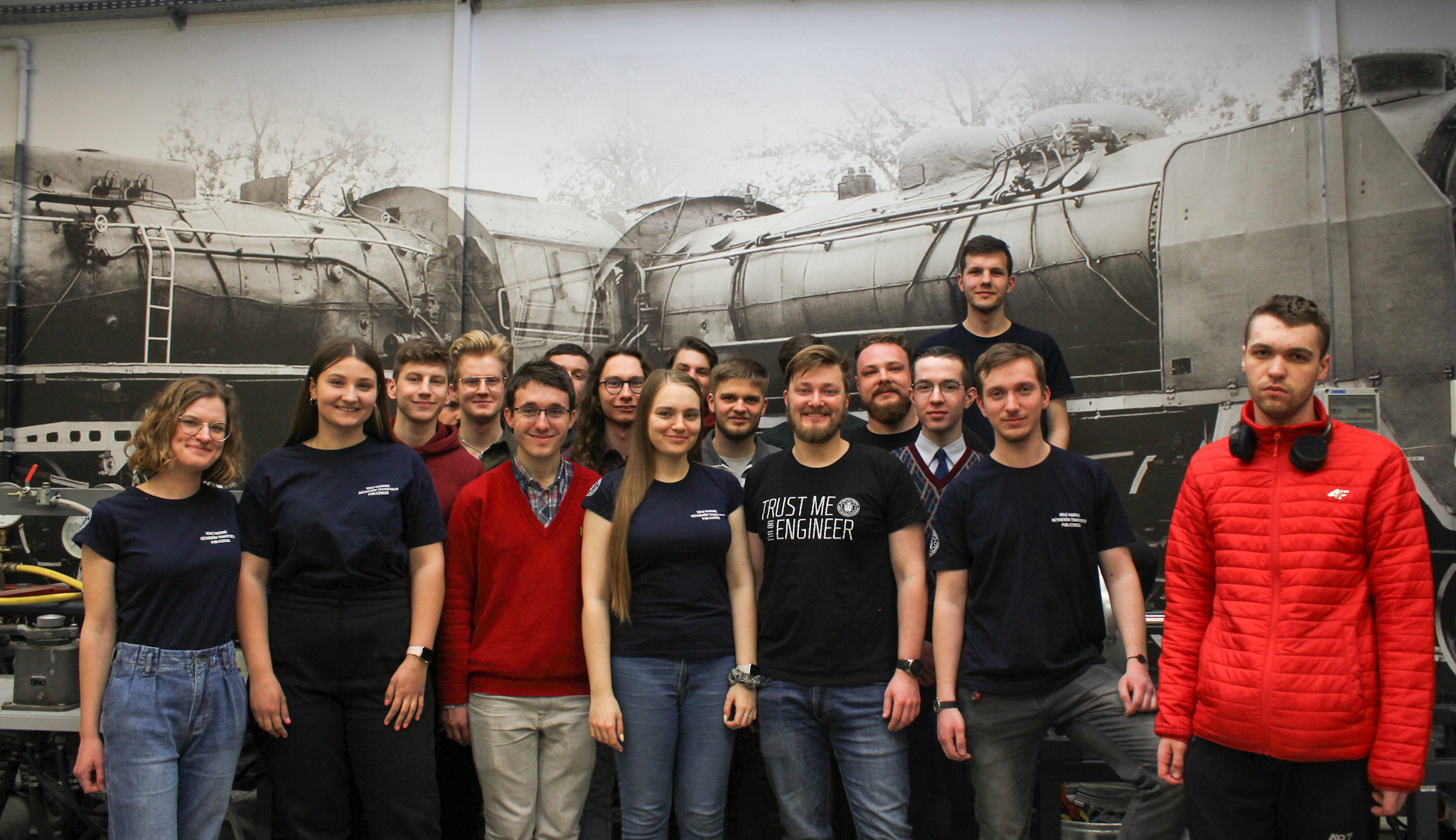 Team Molly loves J.I.M. (FH Aachen & Reuschling)
After an encouraging first participation in the IMechE Railway Challenge in 2017 with their locomotive Emma, FH Aachen was able to win the overall competition in 2019 and 2022 with the new design Molly. The team focuses on the integration of different disciplines and helps to spread the idea of railways within the university. The novel locomotive combines high power with good efficiency of the traction system, thus providing a basis for small-scale innovations readily available to students.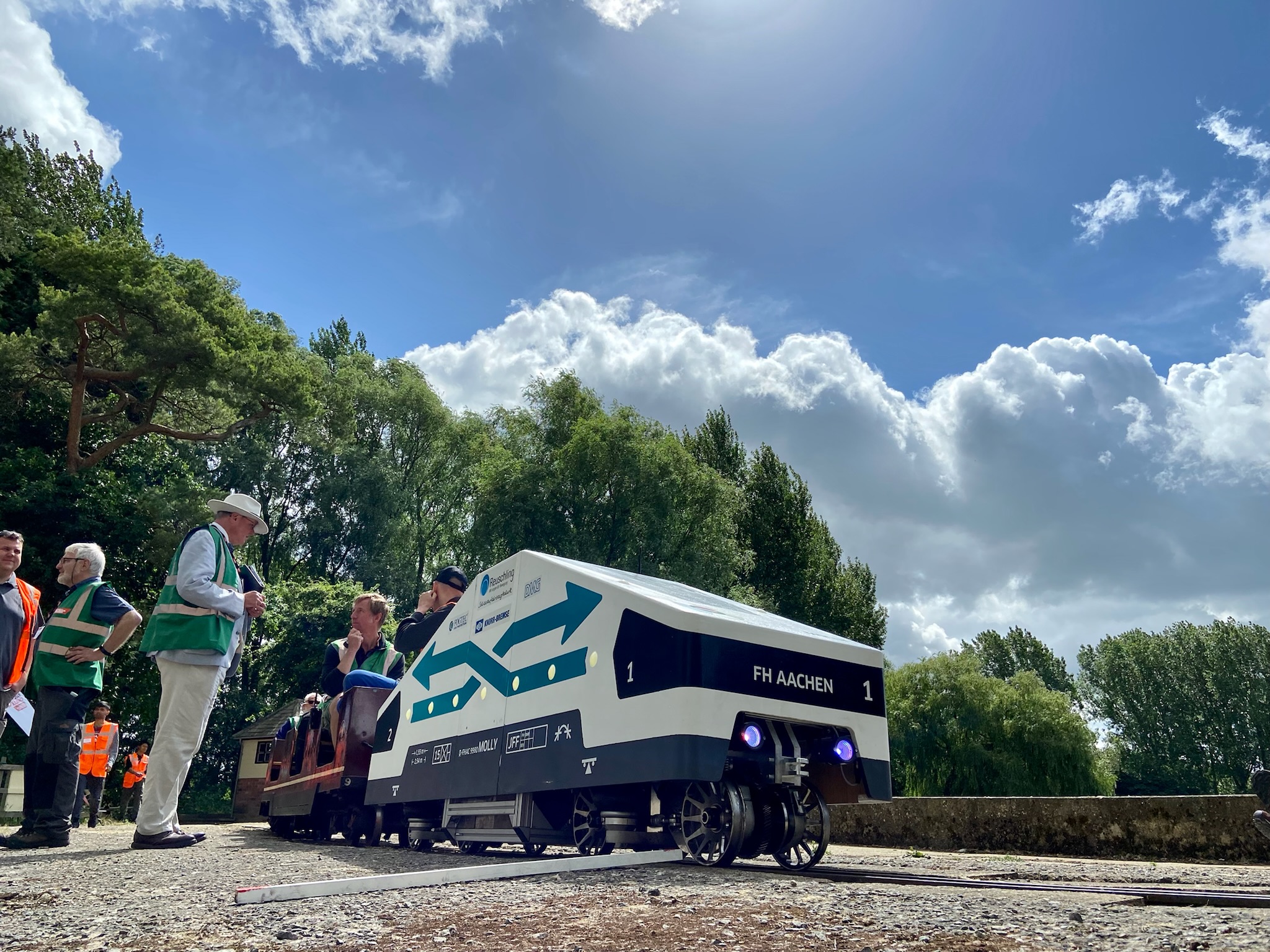 Started in UK as IMechE Railway Challenge, it was quickly accepted as a unique means of educating you professionals to work in projects in the railway sector while at the same time conveying an innovative image to interested young people.
The aim of the teams is to develop, build and test a locomotive for 10,25" (260 mm) gauge railway. This gauge is well established in UK, however somewhat rare in Europe. The advantage of this gauge (and the approximate 1:5 scale) is the comparably low weight and cost of the vehicles as well as the ability to use components with relatively short lead times.
The development cycle is embedded in a 10 month project with milestones and documentation.
The European Railway Challenge closely follows the specification and rules of the IMechE Railway Challenge, which enables teams to enter both competitions. With the European Challenge held some weeks prior to the IMechE Challenge, this provides opportunity to test the teams and the locomotives before entering the UK event.
The European Railway Challenge is made possible thanks to support from Deutsche Maschinentechnische Gesellschaft (DMG), Verband der Bahnindustrie in Deutschland (VDB) and Knorr Bremse SfS. The Chairman of the Event is Dr. Josef Doppelbauer, Executive Director of the European Agency for Railways.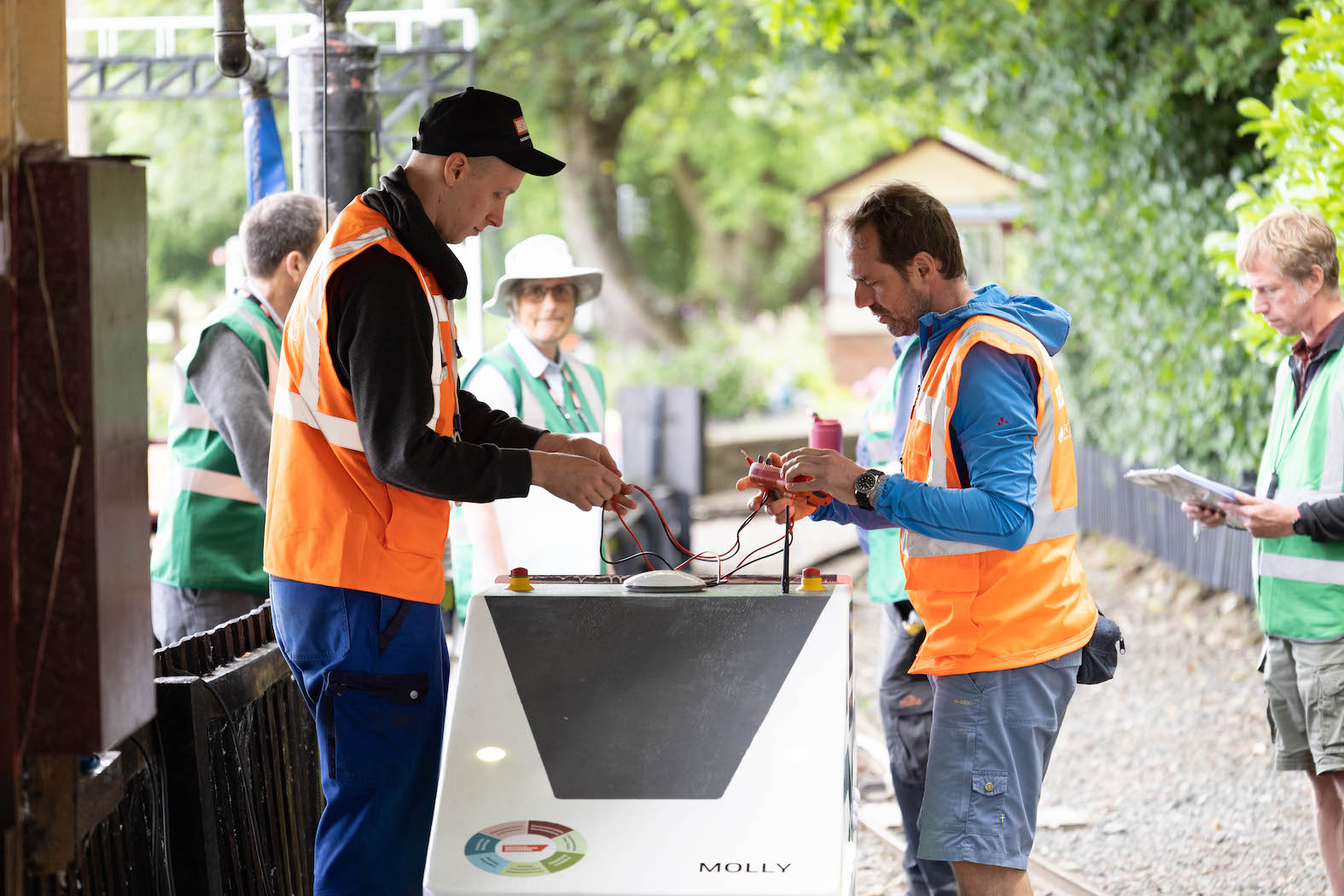 The competition is conceived as a series of individual challenges, both document based and on track. Notable examples for these challenges include
ATO target braking ("Auto Stop Challenge")
Energy efficiency ("Energy Recovery Challenge")
Reliability and Maintainability
Innovation
Business Case
Points are assigned to all challenges and they can also be won individually. The team with the highest overall points becomes the "Grand Champion".
Watch the video of IMechE below:
In order to enter the European Railway Challenge, you need to form a team of 5 to 15 individuals together with a supervisor. The team members shall be students, young professionals within their first two years after graduation or apprentices. It is possible to form a team from multiple organisations, e.g. a company partnering with a local university.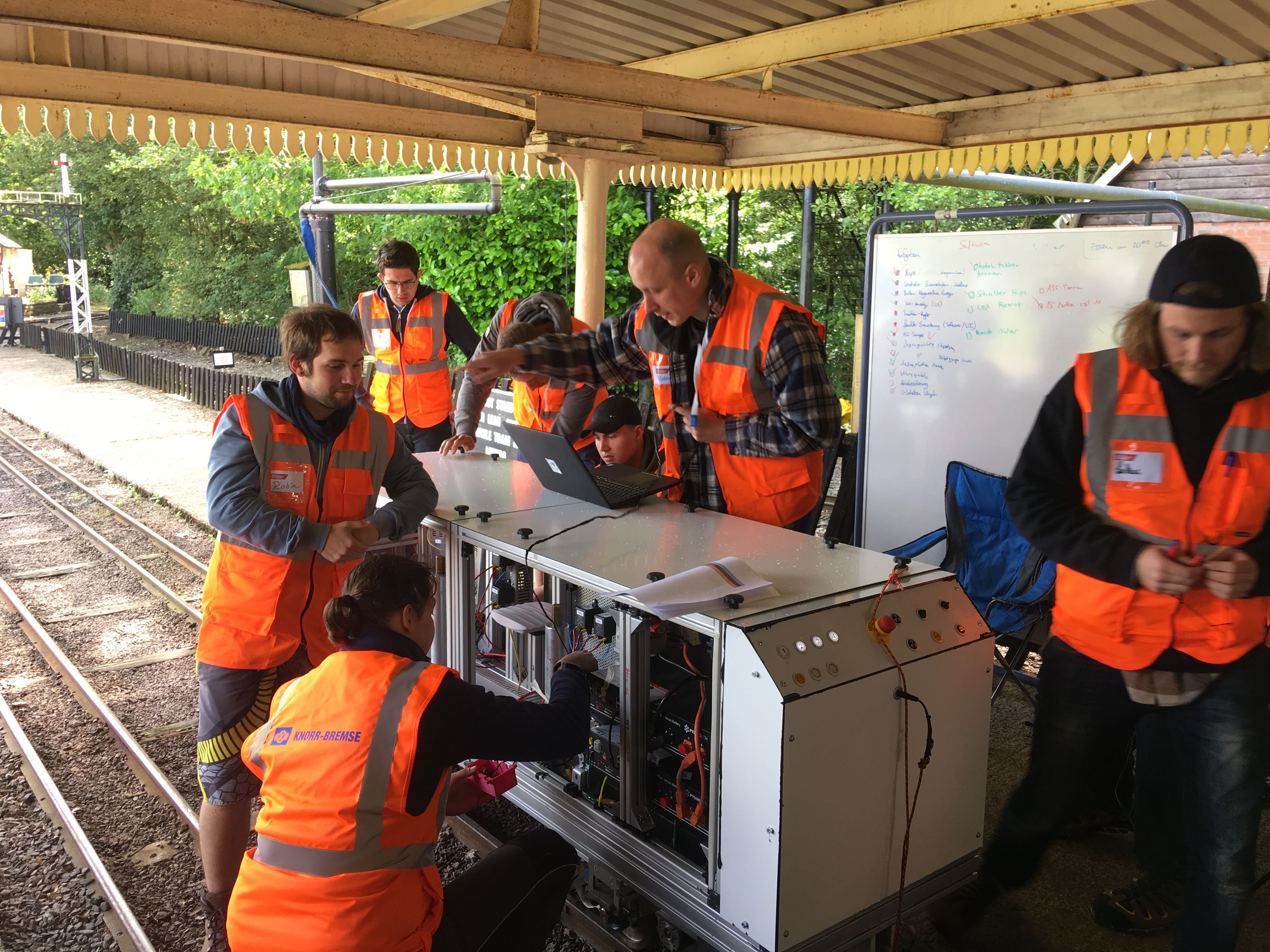 Your teams needs
A motivation - in order to get the best out of these young people, ideally management backed
A budget - depending on your needs and planning, a minimum of 10.000 € needs to be taken into account
A workshop - the locomotive needs to be assembled
An opportunity to test - might be anything from a couple metres of track to a dedicated railway track
For the 2023 challenge, three European teams registered:
TH Nürnberg
University of Poznan, Team PUTrain
FH Aachen, Team Molly loves J.I.M.
The railway challenge 2023 is supported by Deutsche Maschinentechnische Gesellschaft (DMG), Verband der Bahnindustrie in Deutschland (VDB) and Knorr-Bremse SfS GmbH. We are honored to have Dr. Josef Doppelbauer, Executive Director of the European Union Agency for Railway, as corporate sponsor of the railway challenge.
The Railway Challenge is very important for the railway sector in Europe - because here young people can demonstrate their passion for railways in peaceful competition, with challenging designs that bring environmentally friendly technologies to the fore. In the European Year of Skills, we need this more than ever!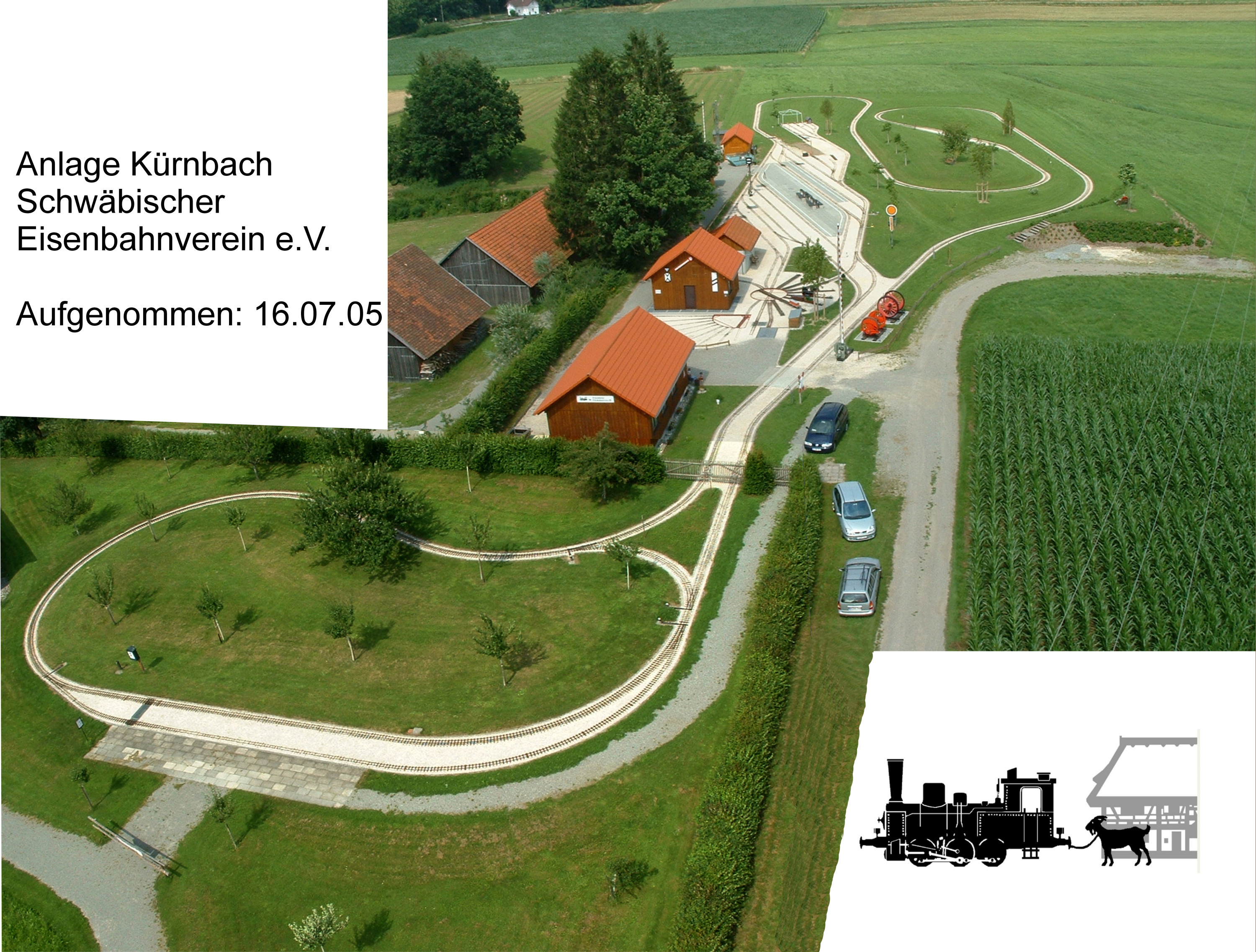 The European Railway Challenge is set to take place May 31 to June 2 2024 in Bad Schussenried, Germany. The track may be available for test runs in the week before the Challenge, this must be agreed between the local railway and the teams.
The team registration closes on October 14 2023.
Visitors can help us be registering for free here.
Register your team for this exiting challenge via mail: hello@railwaychallenge.eu. Also feel free to contact Raphael Pfaff via this mail to clarify any questions! We look forward to welcome you in Bad Schussenried!
If you want to support us as a sponsor, please contact Raphael as well!
Performance outline
The locomotive to be developed by the team runs on 10,25" tracks and has to fulfill (among others, see below) these requirements:
Wheel set load <= 500 kg
Vehicle mass <= 2000 kg
Maximum velocity = 15 km/h
Minimum train weight > 1800 kg
Maximum track gradient 1.2%
The performance is documented by design calculations and testing documentation.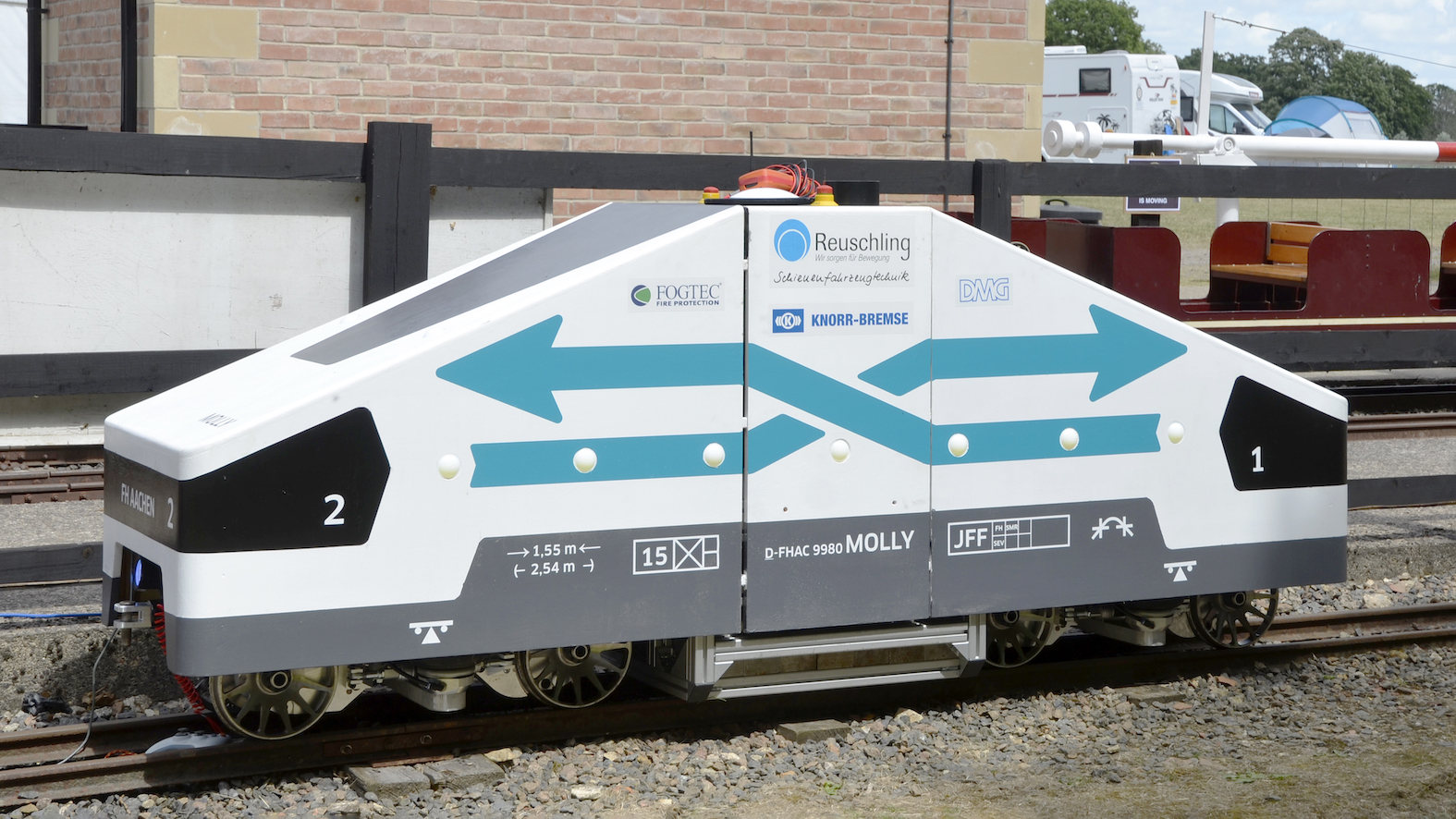 Technical requirements
The locomotive is built according to the technical specification as issued by the Institution of Mechanical Engineers, which can be downloaded here.
The rules of the individual challenges are also set to follow the IMechE rules as provided here.
Further documentation (e.g. structure gauge, wheelset drawings) can be found here.
The rules and specification are expected to change slightly for the 2023 challenge, also we aim to introduce specific European requirements (think interoperability!) in later stages.